Michaela left the family home at the age of 17 due to family issues and involvement of social services. Due to these circumstances, she became a carer for her older brother who suffers with Epilepsy, ADHD, Asperger's syndrome as well as having learning difficulties. Michaela started University but dropped out in her first year and sofa surfed for around 2 years. She wasn't always in the same location as her brother but was always at the other end of the phone to support him when needed.
With this being far from ideal, Michaela and her brother ended up living in a hostel which provided some stability for Michaela to start thinking about sorting her life out before it was too late. At the time, she was receiving universal credit, which gave her the opportunity to work with Moving On T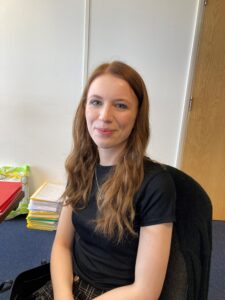 yne and Wear, who helped her create a CV and start applying for work. Moving On provided Michaela with information about the Kickstart Scheme, which is a government-run program, and this is where she found her job working for the Salvation army.
Due to the conditions of the programme, Michaela had to leave the hostel before she could accept the job at the Salvation Army. However, once she had secured accommodation in her own rented flat, she was offered a position as a receptionist at the salvation army for a period of 6 months. During this time, her brother is in receipt of benefits and is living in the local YMCA.
Whilst working at the Salvation Army, Michaela continued her job search with months of no-luck, until she received a call from Stephanie Hallam at CastleView Group. Because of her frequent change of address and temporary residence, it took Michaela a while to become compliant. However, the team at CastleView supported Michaela through this and supported her where possible to gather the relevant documentation and statements to get her into employment.
Once Michaela had completed all the relevant documentation and training, she worked for CastleView Group as a Support Worker for a couple of months. Both Stephanie and Lisa recognised the skills that Michaela had in the sector and from previous employment, and so decided to invite her to join their team in the CastleView Group head office as a Recruitment Administrator.
Michaela has been with us in Head Office since April 2022 and has settled in extremely well and is a valued member of the Social Care team. She continues to work as a support worker on a weekend as well as caring for her brother outside of work – always at the end of the phone if he needs anything.